Product Page
Artemis
Artemis
Artemis is a magnetic multichrome polish that shifts between shades of green, blue, purple, and magenta, and comes with a magnetic wand.
Each shade of Felis magnetic polish is unique and may create a sharper or more diffused design. Experiment and have fun with it!
This shade is part of The Felis Collection.
The Felis Collection has raised $20,000 for Koneko Cat Cafe, who partners with shelters to help find loving homes for cats at risk of being euthanized.
Black polish not included with purchase.
---
Details
Customer Reviews
Customer Reviews
Write a Review
Ask a Question
Filter Reviews:
POLISH
COLORS
magnet
effect
coat
pictures
compliments
base coat
light
base
TM
09/07/2020
Trisha M.
United States
Stunning result on my first try!
Based on reviews with people saying it time to get good at applying and magnetic polishes and getting the effects to look right, I was surprised by how beautiful they came out. I purchased 2 of the Felis collection and am love with them both! (See the thumb and ring finger in my photo for the magnetic polish effect. I combined this polish with some other products.)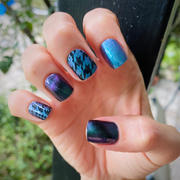 09/06/2020
Jessica
United States
I don't think it works
It's a cool color, but nothing you can't buy at the drugstore for 3 bucks. I did one hand with the magnet and one hand without the magnet. There is no difference whatsoever. The wand is definitely a magnet, but I don't see it doing anything to the polish. My nails definitely do not look like the picture, no matter what lighting I use. It kind of looks like a really dull mermaid scale.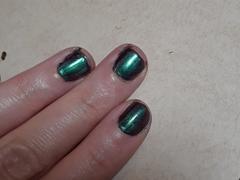 09/07/2020
Live Love Polish
Hi Jessica! We are so sorry you aren't fully satisfied with Artemis. Our Customer Experience Team will be in touch with you via email, please check your inbox for their message.
08/25/2020
Drae J.
United States
Lasts so long!
Everyone talks about how mesmerizing the colors are (and I agree, it is a stunning polish) but no one is talking about how long it lasts! I use Bonder base coat, Essie Licorice black polish, then one coat of this and use the magnet. Then top coat, usually Essie or Seche Vita. And my goodness! I get gorgeous color that lasts for more than a week! I think I've even pushed the two week mark by applying more top coat halfway through. LLP polishes last longer than ANY of my other polishes. It's such a great value and with these wicked color combinations, I'm a devoted fan now.
08/21/2020
Becca
United States
Love it!
I am so in love with this polish! The colors are stunning and remind me of the Northern Lights. I love how it changes pattern and color depending on how my hands are positioned. I have gotten so many compliments from coworkers, friends, and even complete strangers!