Product Page
Galaxy Trio
Galaxy Trio
Bring galactic wonder to your nails with this set of three polishes that, once magnetized, contain multiple pigments that appear to shift and move in the light, creating a sense of depth that's hard to look away from.
Includes three full-sized polishes, one gift box, and one magnetic wand from the Galaxy Trio.


Cosmic Dust
Dark Matter
Stellar Halo
Magnetic Wand
Gift Box
---
Details
Step 1: Apply a generous coat of magnet-activated nail polish. Step 2: While nail polish is still wet, hover Magnetic Wand above nail for at least 10 seconds to create magnetic effect. Work one nail at a time. Step 3: Repeat steps 1 and 2 until polish is opaque. Step 4: Let dry and seal manicure with Live Love Polish Quick Dry Top Coat. Step 5: (Optional) While top coat is still wet, hover Magnetic Wand above the nail for another 10 seconds for stronger magnetic effect.
Our photos are taken with daylight bulbs that replicate sunlight. Holographic nail polish looks best under sunlight and concentrated indoor lighting (e.g. halogen lights in the kitchen!).
Customer Reviews
Customer Reviews
Filter Reviews:
POLISH
COLORS
magnet
coat
compliments
polishes
collection
base
glitter
Cosmic Dust
01/16/2020
James D.
Canada
Gorgeous.
I placed my order and within a week, it came. I ordered 2-3 weeks before Christmas so I wasn't expecting it to arrive right away considering I never got a confirmation email that my order had shipped, etc. Anyway, onto the polishes. One word: Gorgeous. Beautiful multi-chrome colours, holo glitters/iridescent flakies, and magnetic? The formula applies like a dream over a black base, as suggested, and then the magnet makes the magic happen. I would also use the magnet after applying my top coat (per nail), just to help keep a stronger pull on the metal shavings in the polish. Although, as the top coat dries, it does relax a bit. These are so worth it, you wouldn't need to pick a favourite.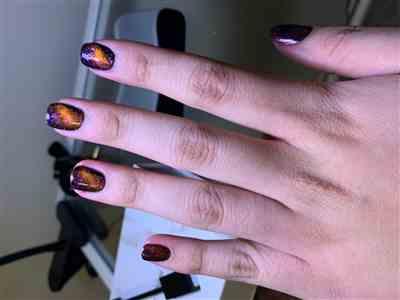 01/09/2020
Jen K.
United States
Outta This World!
The Galaxy Trio is awesome! I use black or dark purple polish first, then top it with one of the Galaxy colors. At first the magnet was a little tricky (actually I think I was just impatient to see the result so I wasn't holding it over my nail long enough) but the second time turned out better and by the third time it looked great and I have short nails. I bought the trio cause I'm a total space nerd and it looks just like a Hubble Telescope photo!
01/06/2020
Pam T.
United States
Amazing polish that really works!
I was very skeptical at first. The videos looked amazing and I wanted to try it. I finally took the plunge and purchased the Galaxy Trio. The colors are vibrant and sparkly!! I put the black base on. Once dried, I used one of the colors and it went on very thick. I placed the magnet wand just over the nail and it's very cool to see the magnetic polish start moving around. It only takes 10 seconds and the pattern is amazing!!! I absolutely love this polish. It's so pretty and unique. I'm very hard with my hands and wash them a lot so the polish lasts several days before any small chipping happens. It's a bit hard to take off the polish with remover, but that is such a small annoyance compared to how the polish looks on your nails! I absolutely recommend this polish for any skeptics, you won't be disappointed. I'm definitely going to purchase more. Thank you for such an amazing quality polish!!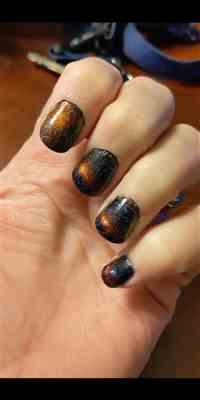 01/04/2020
Leanna L.
United States
So Sad!
I love your polishes as they are so unique and beautiful. I take them to my nail tech. I have him put them on my acrylic nails. When I ordered these polishes, I didn't realize they needed a black base and that they're magnetic. I don't know if my nail tech has used this method or not. What should I do? I haven't opened them yet and don't know if I should exchange them for something similar or not. Please help me! Truly, Leanna Linski
01/02/2020
Jeanne B.
United States
Great colors
As usualmy experience with LiveLovePolish was great, I am addicted to all the colors and these are so beautiful and they last long too.