Product Page
Kumo
Kumo
illimité Kumo is a temperature reactive polish that transitions between medium grey when cold and light grey when warm with holographic glitter and blue shimmer.
This nail polish is designed and made in the USA.
Temperature reactive polish has a typical shelf life of 6 months - 1 year and may begin to lose their ability to change color after that. The polishes are not kept in temperature controlled containers during transit, and may require time to cool off/warm up upon arrival before color transitioning can be seen.
---
Details
Customer Reviews
Customer Reviews
Filter Reviews:
POLISH
COLORS
bottle
coat
color
pictures
polishes
silver
color change
Kumo
11/02/2019
Christina R.
Norway
Most beautifull
This is the most beautifull color i baugt from live love polish. And i have baught ca 40 polishes from live love polish. Its a lovely shimmer in it.
Expected Better
The color is absolutely pretty and beautiful but it doesn't have that affect as what I'm seeing on the pictures. It doesn't change colors at all with the cold or hot water. My nails are pretty long so I would assume it would work great, a bit disappointed.
07/11/2019
Sarah B.
United States
Pretty...but
I absolutely love this polish. The glitter is spectacular. The only think I don't like is that with it being temperature sensitive, it is very opaque when not 'changed'. So if you like lighter colors with sparkle it's great. I was just expecting it to be a little darker day to day.
07/11/2019
Lisa L.
United States
Very interesting polish!
I found myself spending a lot of time checking in out what color my nails were going to be at different times of the day!! The polish lasted over a week and that included through a camping trip! This color did not boast the same level of french manicure look as did the blue nude that I got bit it did have its moments!! Smooth going on, a bit of a challenge to get off!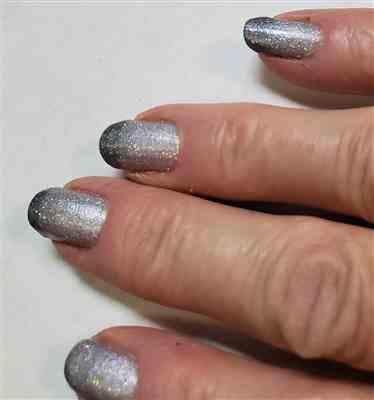 07/01/2019
Katrina C.
United States
Chalky and disappointing
The polish dries chalky, so a top coat is required, but even after waiting several hours to ensure that the polish had thoroughly dried, when I added one layer of top coat, the polish became gummy and stayed that way for 2 days.
08/13/2019
Live Love Polish
Hi Katrina! We are so sorry you aren't fully satisfied with Kumo. Our Customer Experience Team here at Live Love Polish would love to help you find a solution to your problem. Our Customer Experience Team has reached out to you about this issue, please check your inbox for their message.