Product Page
La Femme Fleur
La Femme Fleur
La Femme Fleur is a duochrome polish that shifts between shades of yellow, bronze, and pink with holographic glitter and strong green shimmer.
This shade is part of the Picasso Collection.
---
Details
Customer Reviews
Customer Reviews
Write a Review
Ask a Question
Filter Reviews:
POLISH
COLORS
coat
color
compliments
pink
opacity
yellow
gold
lighting
06/14/2020
Emily N.
United States
Sunshine!
I loved the color. It picks up the same pigments in the picture and is very opaque. I am satisfied with my purchase.
05/30/2020
Christy D.
United States
Great color!
I was surprised at how much I love this! I was expecting it to be a shocking yellow when I put it on, but in indoor lighting, it's a warm, gold glow, almost coppery, with a cool green flash. I'm certainly not "scared" of unusual colors, but I was not prepared for how different, yet still mature this color is. I can definitely see myself wearing this to work, as well as just for fun on vacations.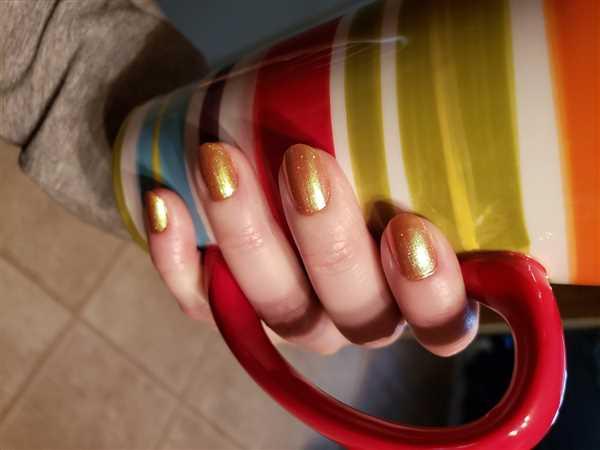 04/09/2020
Samantha
United States
Color is a little weird, but great polish!
I was playing with color when I bought this little guy! The color is a little strange if you are not under the correct lighting. If you are not a die-hard fan of yellow, I don't suggest buying this. Otherwise, great polish!
04/09/2020
Maura .
United States
**
So beautiful. This is a very unique color, I love every time I wear it and it stays on really well.
04/04/2020
Avice W.
United States
Very light
This is a very very light yellow even with 3/4 coats on!
04/10/2020
Live Love Polish
Hi Avice! So sorry that La Femme Fleur is not working as anticipated. Please check your email as our Customer Experience Team will be reaching out to you.