Product Page
Horizon
Horizon
Live Love Polish Horizon is a temperature reactive polish that transitions between orange when cold and sheer when warm with iridescent and holographic glitters.
This nail polish is designed and made in the USA.
Temperature reactive polish has a typical shelf life of 6 months - 1 year and may begin to lose their ability to change color after that. The polishes are not kept in temperature controlled containers during transit, and may require time to cool off/warm up upon arrival before color transitioning can be seen.
---
Details
Customer Reviews
Customer Reviews
Write a Review
Ask a Question
Filter Reviews:
POLISH
COLORS
coat
orange
color
hands
pink
polishes
application
color change
03/11/2020
Karen
United States
Very little color change
The color changed, but it was mostly either the entire nail, or a very small sliver on the tip, even though my nails are pretty long. So it's pretty much either the solid pink or the solid orange.
03/11/2020
Live Love Polish
Hi Karen! We're so sorry that you aren't fully satisfied with Horizon. Please check your email, our Customer Experience Team will be reaching out to you shortly.
02/13/2020
erica k.
United States
Doesn't work as expected :(
I just used the pink/orange thermal (horizon), and it's just orange, it doesn't change to light pink unless I'm washing my hands, or by a heater. I thought, as the pictures show, it would look like a french tip. Overall the color change is a cool trick, but not the feature advertised...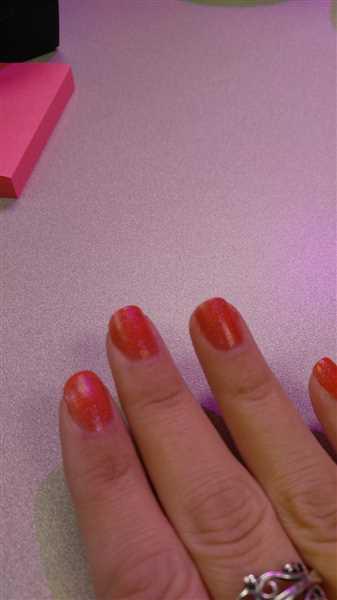 02/13/2020
Live Love Polish
Hi Erica! We are so sorry you aren't fully satisfied with Horizon. Our Customer Experience Team will be in touch with you via email, please check your inbox for their message.
J
11/12/2019
Josie
United States
10/20/2019
Kara O.
United States
Great color changer
I was pleasantly surprised with this gem. It shifted colors exactly as pictured and was a sturdy manicure- wore with my fave base and top coat and rocked it for a 10 days without any signs of chipping. Love the shimmery nude color- and the surprising shift to bright coral. Very pretty polish!
07/16/2019
Lori S.
United States
GOT TO BE THE BEST
GOT TO BE THE BEST IVE EVER USED!! ADDICTION TO YOUR COMPANY!