Product Page
Kraken
Kraken
Kraken is a multichrome flakie polish that shifts between shades of green, blue, and purple with gold and holographic glitters.
---
Details
Customer Reviews
Customer Reviews
Write a Review
Ask a Question
Filter Reviews:
POLISH
COLORS
coat
color
compliments
picture
stars
texture
some
consistency
06/27/2020
Kelli M.
United States
Love this!
One of the best glitter polishes I've ever had. Usually they end up flaking off after a couple days but this one lasted a solid week without noticeable chipping.
06/12/2020
Luna S.
United States
Great polish!
Great polish, especially with the sponge technique.
05/20/2020
Cassie
United States
Allright in normal light, STUNNING in Direct Sun
So excited to get this one! The flakes are smaller than I expected, closer to glitter, and gold/silver flakes seem to dominate. Color really depends on what color you put underneath. I put it on top of a purple polish, which also made the green flakes stand out, so I feel kind of Mardi Gras-ish now hah oops. Can be layered to desired sparkliness! Just a random glitter in artificial lighting, but when the sun hit, I could see the entire rainbow shimmering out of those flakes, woo! Definitely best for sunny outdoor occasions, if you aren't the kind to just wear polish for a week indoors. My photo does not do it justice, but you can see the rainbow dots of light.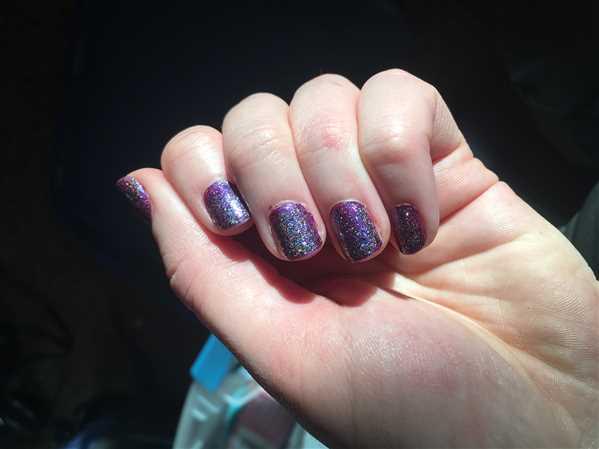 03/21/2020
Ginger R.
United States
Kraken
Got lots of nice compliments.
02/15/2020
Tina M.
United States
Fine
I didn't read the reviews about the color because I thought I was going to get the greenish color so I was extremely disappointed but that was my fault because I did not read. The polish chipped off on day one. Pretty polish but I did not get the base or top coat so that could have cause it to chip off so soon.