Product Page
Mervin
Mervin
As bright as Mervin's personality, this polish is a metallic foil texture that comes to life with linear holographic rainbows in the sunlight. Check him out @mervinthechihuahua.
Mervin is a silver metallic foil polish with linear holographic glitter.
This shade is part of the Pups & Paws Collection.
100% of net proceeds, up to our goal of $20,000, will benefit The Vanderpump Dog Foundation, working to help create a better world for dogs globally.
---
Details
Customer Reviews
Customer Reviews
Write a Review
Ask a Question
Filter Reviews:
POLISH
bottle
coat
color
compliments
light
cause
coverage
glitter
somewhere
09/16/2020
Christian F.
Australia
Super pretty
Lovely shade with shiny silver flakes and linear holo. This is a silver polish with holo, don't expect a pure silver holo because this it is not. That aside though, the formula is spectacular as LLP polishes always are and long lasting. Works well with toppers and didn't chip for me under glossy top coat.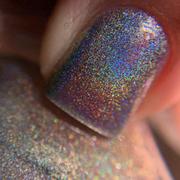 09/03/2020
Caitlin .
United States
Love it!
I love anything holographic so this is one of my go-to polishes!
08/27/2020
Jessika S.
United States
Great consistency!
This was one of the first polishes I ordered from LLP. I was really happy with the consistency of the polish. It was thin enough to paint easily and evenly but opaque enough that once coat was practically all you needed (at least with this particular color). The holographic glitter is subtle and not in your face which is kind of fun.
08/22/2020
Charity M.
United States
One of my new favs!
It is so pretty when the sun hits it and of course this color goes with everything!
08/19/2020
Heather
United States
THIS is what glitter should be
I was really hard on Like a Dream, but Mervin is almost like a dream, so I came back to sing its praises. First, I was concerned. The pictures looked more like Poolside (which I love), where it would dry smooth and holographic-y and sparkly, but when I received it, this looked like pure glitter in a bottle. And I have a problem with most glitters because they don't remove easily and I have to work at it (and I don't like the peel-off base coat because it doesn't last long enough). BUT I gave it a shot. It went on so pretty. It didn't dry smooth exactly, but smooth enough that a nice top coat makes it shiny. And it comes off easily! Hooray! I don't know what makes this glitter formula different from the glitter in Like a Dream, but this one works for me. I feel like I should go somewhere fancy with my glittery silver nails, but alas, still working from home. Still, I can enjoy them!