Product Page
Prickly Pear
Prickly Pear
Prickly Pear is inspired by the native Mexican fruits Frida Kahlo painted, chosen from her garden or local street markets. To her, the flesh of fruit was deeply connected to human flesh and aliveness — likewise, when this polish warms on your nails, it blooms into a bright magenta hue.
Prickly Pear is a thermal polish that transitions between bright magenta (warm) and dark purple (cold) with iridescent and holographic glitters and blue-to-purple shifting shimmer.
This shade is part of the Frida Kahlo Collection.
Temperature reactive polish has a typical shelf life of 6 months - 1 year and may begin to lose their ability to change color after that. The polishes are not kept in temperature controlled containers during transit, and may require time to cool off/warm up upon arrival before color transitioning can be seen.
---
Details
Customer Reviews
Customer Reviews
Write a Review
Ask a Question
Filter Reviews:
POLISH
COLORS
coat
color
pink
polishes
purple
color change
water
time
06/07/2020
Elaine R.
United States
Beautiful colors!
I love Prickly Pear! It transitions to a really nice pink when warm and a pretty purple when cool. It's fun to watch the color change throughout the day.
05/30/2020
Tiffany B.
United States
Great color, poor wear.
The polish is a gorgeous color but is very matte and rough to the touch. It definitely needs a clear coat. At this price I didn't expect that. It only last about two or three days before it started chipping. The color change is awesome but I don't think it's worth the trade off.
04/09/2020
Laurie
United States
Love this polish
Great polish, great wear power & beautiful colors!
03/01/2020
Kristin M.
United States
Very Disappointing
I was very disappointed it didn't change colors. ☹️ I tried extreme cold and cold hot warm lukewarm and no change at all it all stayed a lighter magenta color not like what the pictures show. The polish itself was also very thick and hard to spread on my nails almost like it was old. I wonder if it's a defective bottle? ☹️ So sad
03/02/2020
Live Love Polish
Hi Kristin! So sorry that Prickly Pear is not working as anticipated. Please check your email as our Customer Experience Team will be reaching out to you.
02/22/2020
Sasha W.
United States
Great color, but went on streaky and dried uneven
I love the color of this, but it went on very streaky even when applied thick in multiple layers, and dried with a bit of a grainy texture. It took me 3 tries and way too much of my top coat wasted to remover in order to get it a solid color and as close to smooth as possible. Feels smooth after top coat, but visually doesn't look smooth. I still love the color but probably won't wear it often unless I figure out a better way to apply it. (Excuse the messy cuticles/polish, I got tired of trying to clean it every time )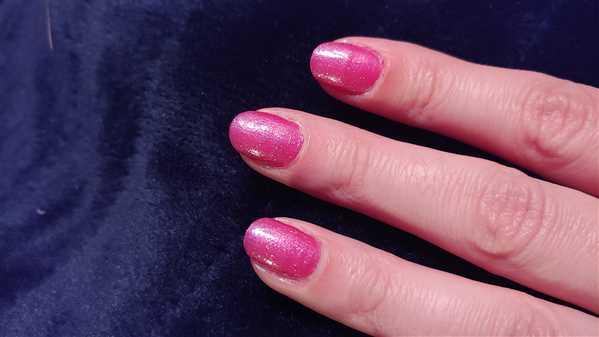 02/22/2020
Live Love Polish
Hi Sasha! We're sorry that you're not completely satisfied with Prickly Pear. Our Customer Experience Team will be reaching out to you by email soon, please check your inbox!