Product Page
Prickly Pear
Prickly Pear
Prickly Pear is inspired by the native Mexican fruits Frida Kahlo painted, chosen from her garden or local street markets. To her, the flesh of fruit was deeply connected to human flesh and aliveness — likewise, when this polish warms on your nails, it blooms into a bright magenta hue.
Temperature-reactive

Transitions between dark purple (cold) and bright magenta (warm)

Holographic glitter

Iridescent glitter

Blue to purple shifting shimmer

Designed and made in the USA
Temperature reactive polish has a typical shelf life of 6 months - 1 year and may begin to lose their ability to change color after that. The polishes are not kept in temperature controlled containers during transit, and may require time to cool off/warm up upon arrival before color transitioning can be seen.
---
Details
Customer Reviews
Customer Reviews
Filter Reviews:
POLISH
COLORS
color
love
pink
cold
polishes
purple
picture
everything
10/28/2019
T R.
United States
Beautiful colors
I love it and my nails look pretty and feel stronger. They look like I had them done at the spa or salon. Even at church I got a response. Can't wait to buy more.
What a great polish
Now I've had time since I took this picture to get better with the these polishes and the temperature was a little weird that day. This was the first time I was able to use a thermal polish that wasn't gel or looked extremely cheap. I'm absolutely in love because this gives me an option on my lazy days when I don't feel like doing special designs. So do yourself a favor look for promo codes and sales.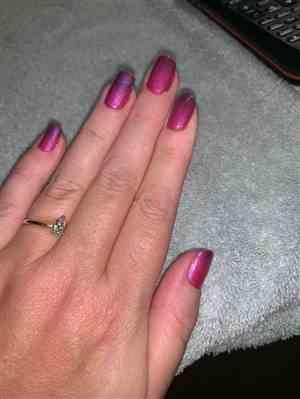 SO fun!
This is amazing! So much fun and works so well! I'm hooked on this one. The color change is really fast and very noticeable. Home run!
07/28/2019
Krista S.
United States
Beautiful and so fun!
I just put this on 2-3 days ago and i love it. I'll definitely be buying other colors. Very happy with!
Quick change artistry!
I love the way this polish changes colors so quickly! It is very reactive to temperature changes. And the colors are bold and beautiful! This is my new favorite temperature reactive polish! I may have to buy another one before too long. I'm so glad I bought this polish!