Product Page
SpongeBob Trio
SpongeBob Trio
Are you ready?? Introducing a fun new collection dedicated to the best fry cook in the deep blue sea and his pals!
SpongeBob, Patrick, and Gary come to life as never before in bright, unique shades. Make it the Best Day Ever with 'Best Gold Ever', try 'Meow.' if you've got a lot to say, or show off your inner superstar with 'Star Power'!
The SpongeBob Trio includes three sparkly polishes. 'Best Gold Ever' is a light gold sparkly polish with flakies that shift from red to orange to green. 'Meow.' is a cool blue polish with gold and green sparkles and flakies that shift from yellow to green to blue. 'Star Power' is light coral polish with gold sparkle and flakies that shift from green to turquoise to violet.
The SpongeBob Trio is only available in the US.
---
Details
Customer Reviews
Customer Reviews
Write a Review
Ask a Question
Filter Reviews:
COLORS
POLISH
sparkle
blue
nails
favorite
pink
collection
yellow
coverage
09/24/2020
Carrie R.
United States
09/12/2020
Karen
United States
Too thick
I recently received my collection. I was very excited to have a spongebob nail polish set. The colors are very beautiful, specially that yellow!! On the nail they also look pretty. My main problem with this collection is the difficulty to apply. The yellow was the least difficult one but still. As far as the pink and blue, they were incredibly hard to use. I understand the differences with formulas and how they behave but this was very disappointing. Gloopy, thick and the polish got stuck on the brush wand as you're using it because it's so thick. Once applied to the nails, it isn't very self leveling and it does leave your mani with bumps all around, very bumpy. You HAVE TO wear a top coat. Maybe others had a better batch since these are handmade, consistency does change. I've had issues with other polishes due to this fact. Almost wish I hadn't spent my money on this collection. (Hopefully you can see the bumps on the pic)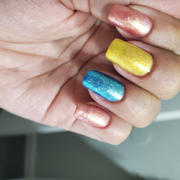 09/13/2020
Live Love Polish
Hi Karen! We are so sorry you aren't fully satisfied with the Spongebob Trio. Our Customer Experience Team will be in touch with you via email, please check your inbox for their message.
08/16/2020
Brittany O.
United States
Love this product!!
Colors are beautiful and the sparkle is unreal! ✨
08/06/2020
Massiel P.
United States
Love
All of the shades are amazing and the formula too I'm in love with the entire collection.
08/06/2020
Marit A.
United States
Spongebob fan and nail polish fan
I LOVE Spongebob, so when I saw this polish trio, I had to get it. It does not disappoint. I prefer 3 coats ove 2 for maximum coverage, but that is to be expected with glitters and it applies very smoothly.