Product Page
Wisdom or Wit
Wisdom or Wit
As Jane Austen put it, "Wisdom is better than wit, and in the long run will certainly have the laugh on her side." Take the thoughtful approach and select a polish that'll add a bit of cleverness to any situation.
Wisdom or Wit is a tri-thermal polish that transitions between pearlescent white (warm), sky blue, and purple (cold) with holographic glitter and blue-to-green shifting shimmer.
This shade is part of the Jane Austen Collection.
Temperature reactive polish has a typical shelf life of 6 months - 1 year and may begin to lose their ability to change color after that. The polishes are not kept in temperature controlled containers during transit, and may require time to cool off/warm up upon arrival before color transitioning can be seen.
---
Details
Customer Reviews
Customer Reviews
Write a Review
Ask a Question
Filter Reviews:
POLISH
COLORS
coat
color
compliments
polishes
purple
color change
temperature
glitter
04/02/2020
Jill T.
United States
Was not expecting to love this as much as I do!
After having used gel and dip for the past 8 years, I randomly came across these on IG and decided to try them. I LOVE them!! They are so cute either color or in between colors! I put a gel top coat on to make them last longer and so far so good! Five days in and no chipping. Will be buying more colors soon!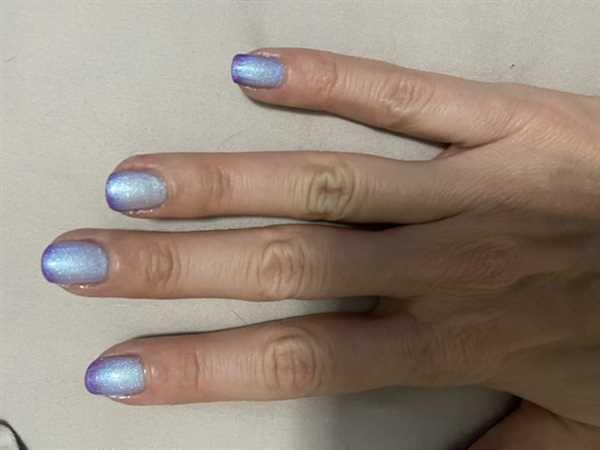 04/02/2020
susan t.
United States
Fun and fancy
I love this shade changing polish. It is fun to look down and see a different look!
03/28/2020
Emily C.
United States
I Bought this at the right time!
Can't say enough how fun it is to wash your hands incessantly with a color changing temp reactive nail polish. It's shamefully entertaining and weirdly has been keeping me saner than I'm proud of during quarantine. It color shifts most noticeably in water, and you won't get a true gradient that lasts permanently on longer nails. However, using your hands for different things during the day is quite fun to watch the shift happen. Definitely IG approved and generally quite fun
03/20/2020
CeeCee S.
United States
Hot to cold is cool
Beautiful mood colors
03/20/2020
Maggie B.
United States
Best color change polish ever
I LOVE this color. It's the fifth polish I've bought from Live Love Polish, and the third color change. This is hands down the best. I love the hot and cold colors, it ACTUALLY changes colors with even a slight temperature difference (which is nice because I live in Arizona where it's hot af all the time), and it goes on really smooth. I will definitely be wearing this all the time.